01

Max. output: 405 kW (550 hp)

02

0-100 km/h in 3.4 seconds

03

Maximum traction with M xDrive

04

CS specific suspension and lightweight design

05

CS specific design features
FASCINATING PERFORMANCE.
Exposed carbon-fibre surfaces and red contour lines: The BMW M3 CS instantly announces its sharper character with a series of individual design features.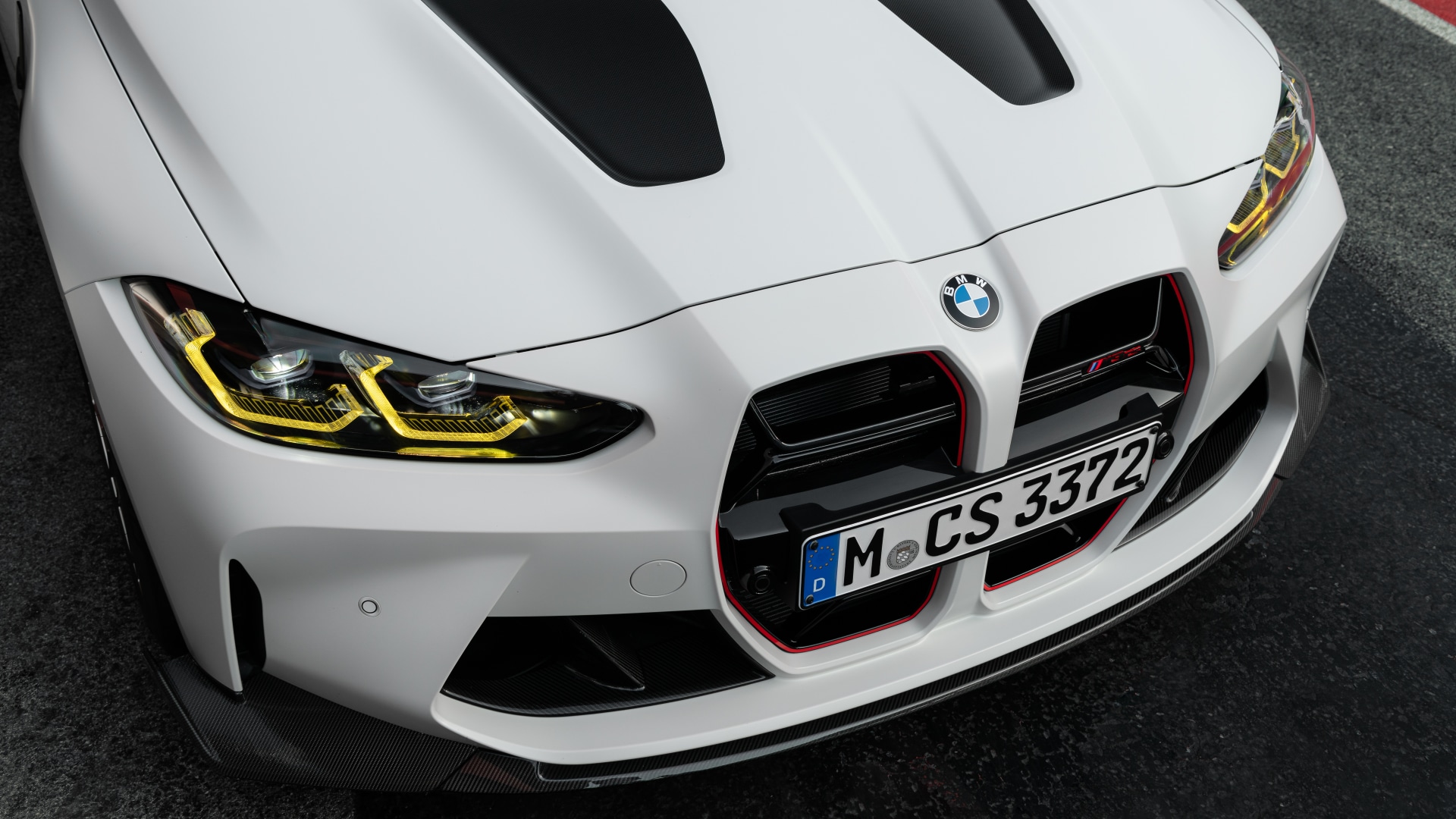 MOTORSPORT DNA.
In addition to the frameless BMW kidney grille with red contour lines and the carbon fibre bonnet, especially the BMW Laserlight headlights with yellow icons reference GT racing.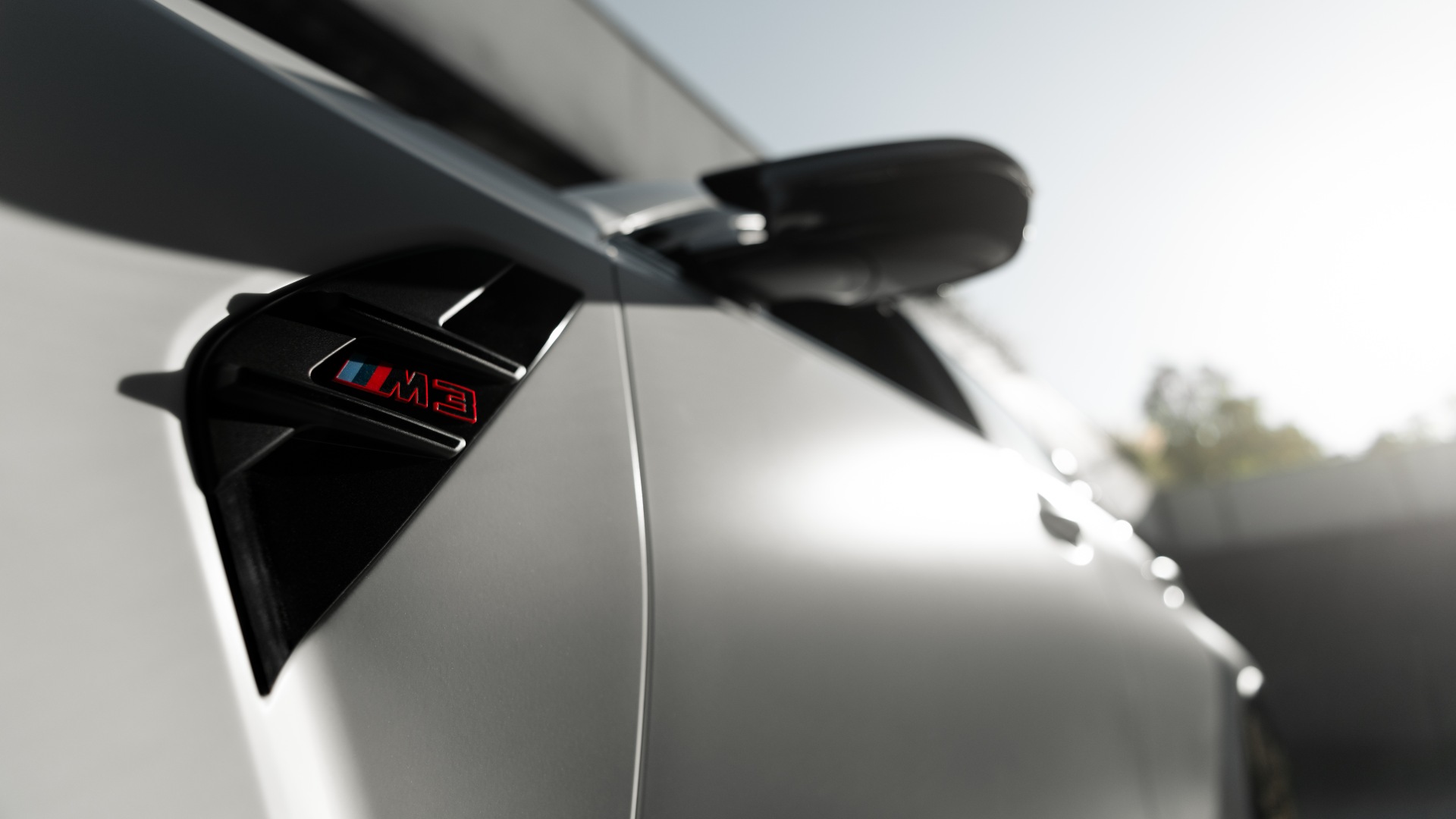 EXCLUSIVE CS DESIGN.
The "M3 CS" badging on kidney grille bars, the M gills on the side and the boot lid has black surfaces with a red border.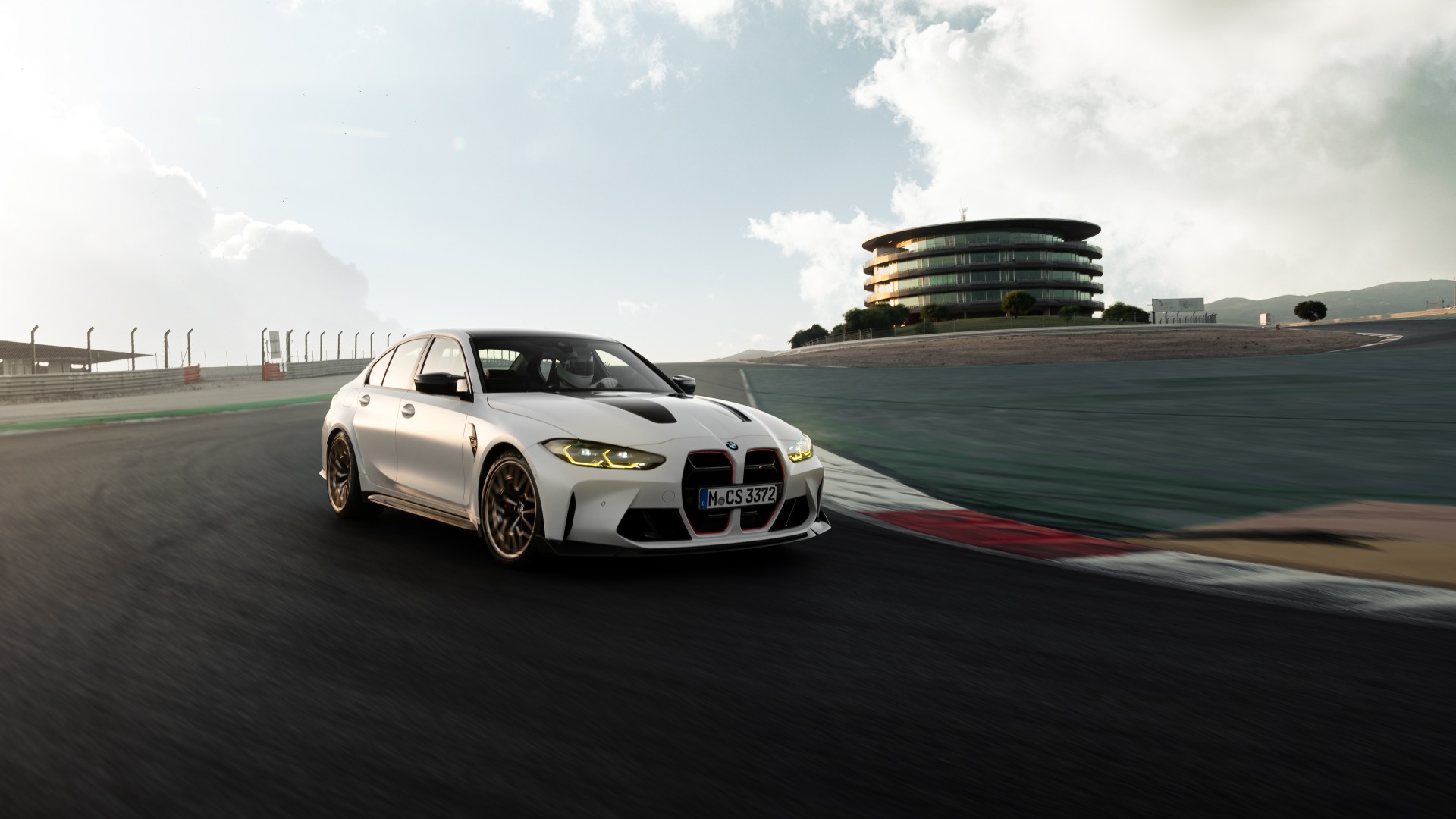 FASCINATING DRIVING DYNAMICS.
From specific springs, anti-roll bars, damping elements and control arms to traction control: The BMW M3 CS combines track performance with great functionality and everyday usability.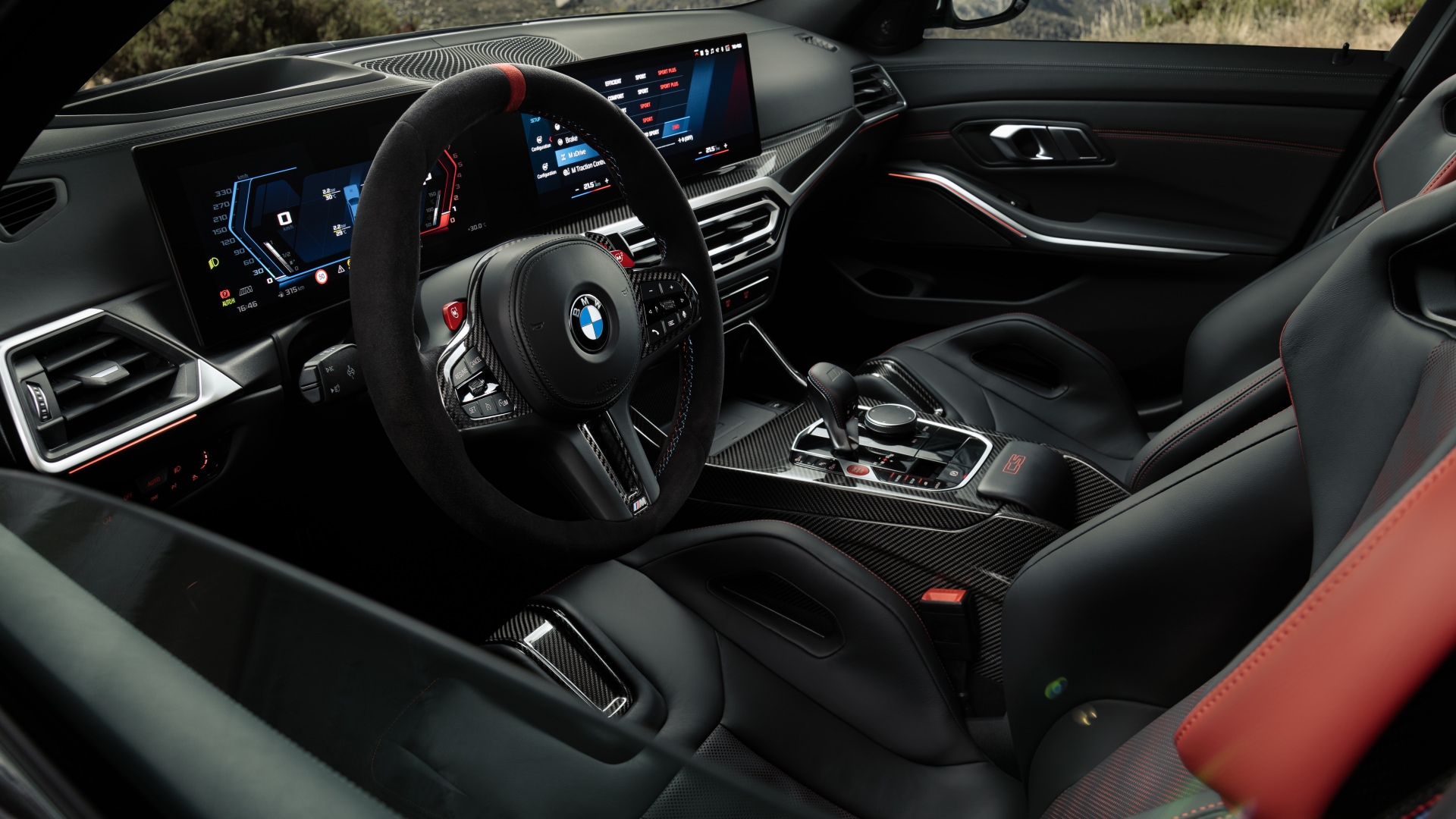 M CARBON BUCKET SEATS.
The driver and front passenger are welcomed as standard by M Carbon bucket seats in a model-specific design.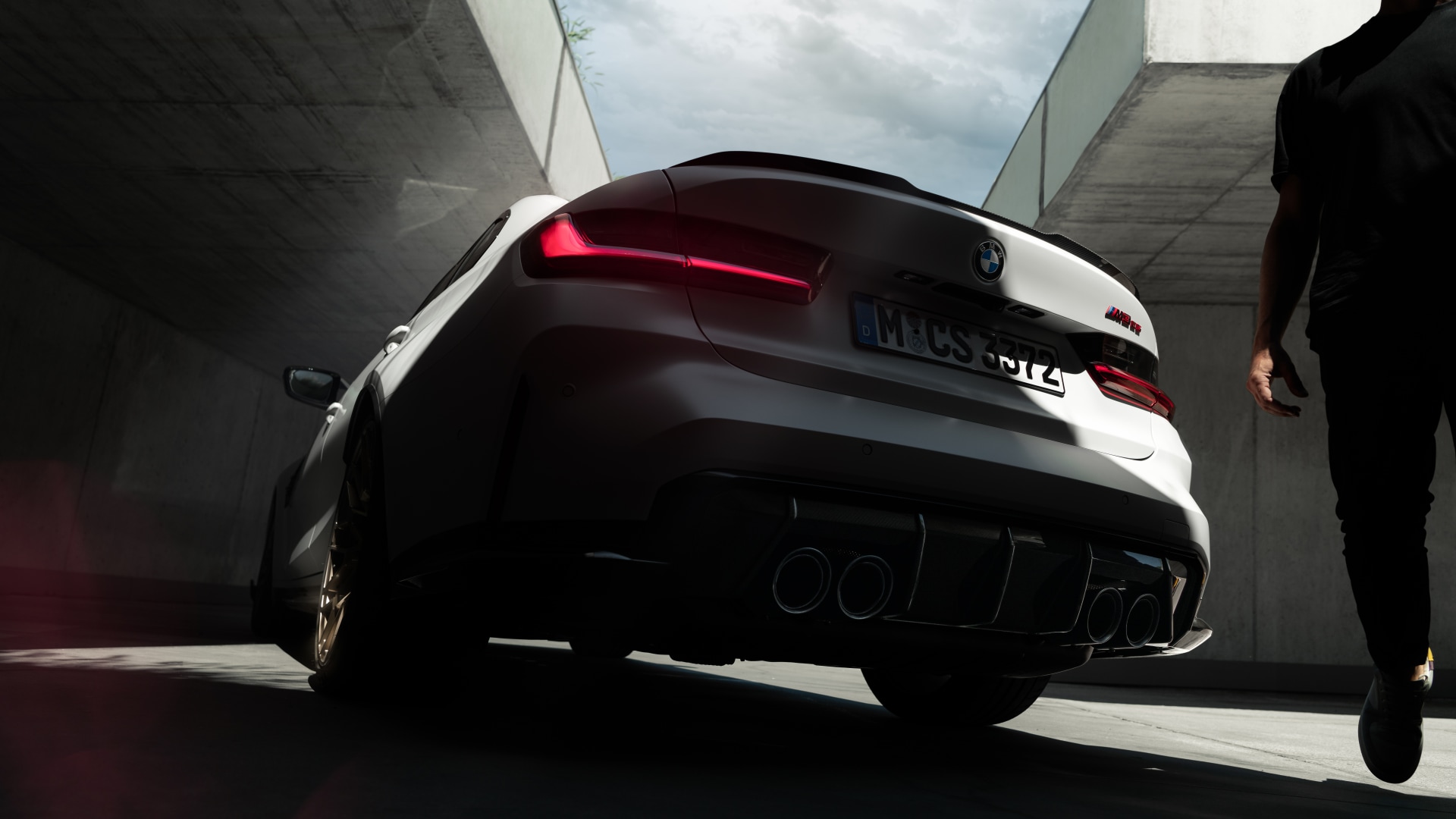 TITANIUM SILENCER.
The rear diffuser and rear spoiler of the BMW M3 CS are also made of carbon. The titanium rear silencer saves an additional 4 kilograms in weight.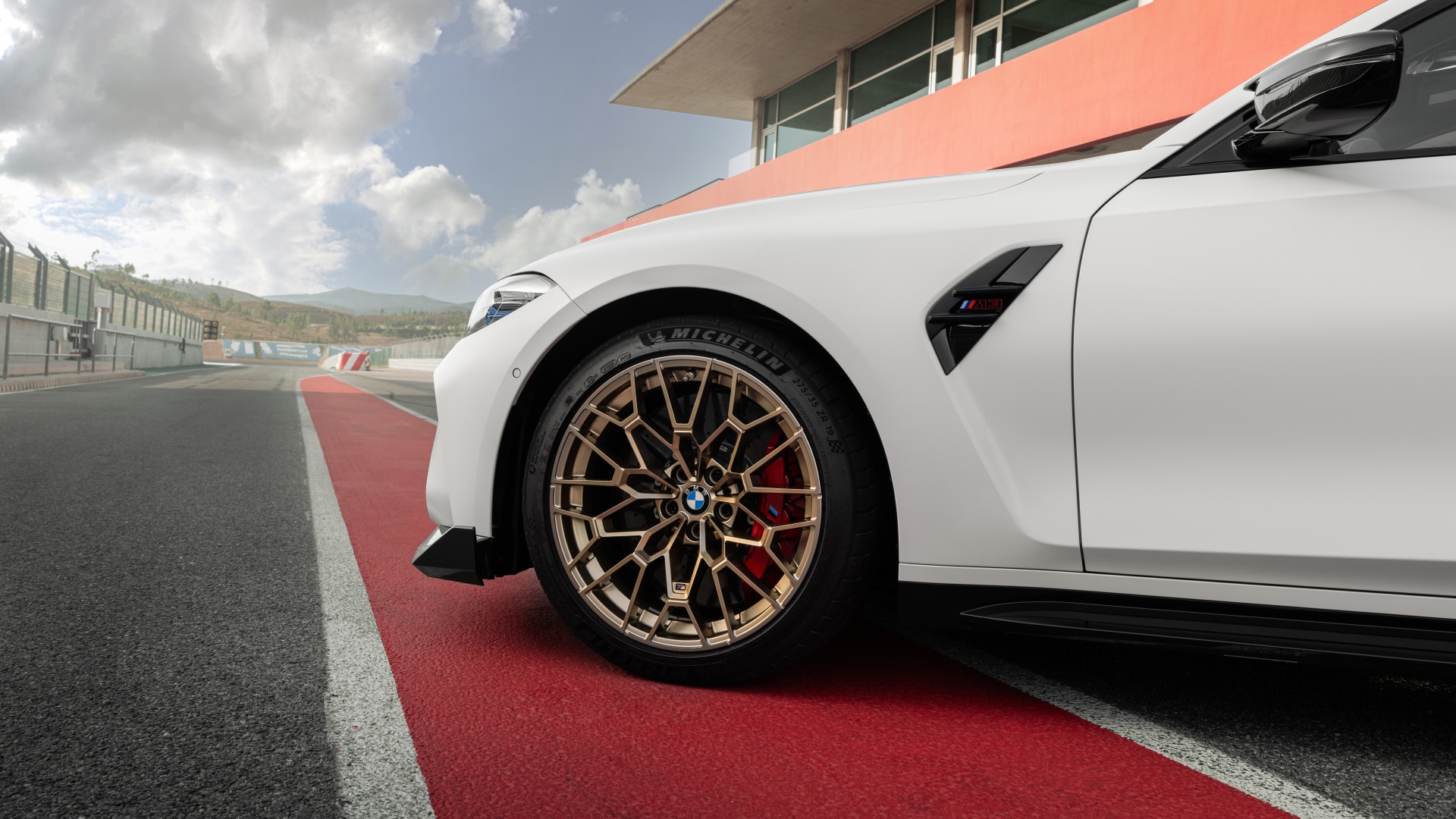 M LIGHT-ALLOY WHEELS.
The forged M light-alloy wheels 827 M in an exclusive V-spoke design with a Gold Bronze finish are standard – together with track tyres.
550 hp
is developed by the M TwinPower Turbo inline 6-cylinder petrol engine of the BMW M3 CS.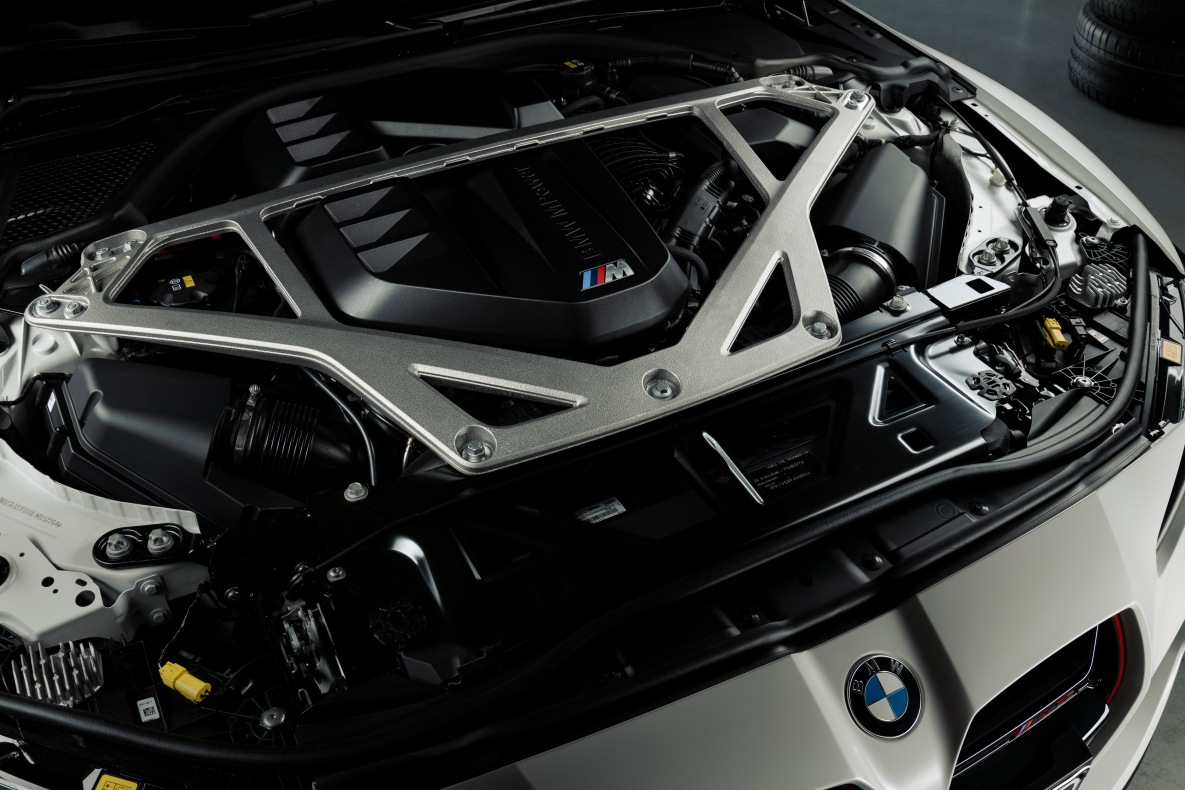 HIGH REVS, MAXIMUM POWER.
The M TwinPower Turbo inline 6-cylinder features superior power delivery and the striking characteristic M sound. The assembly has been further developed and delivers an outstanding 405 kW (550 hp) peak output – 30 kW (40 hp) more compared to the Competition models. The adjustments primarily involved raising the maximum charge pressure of the two mono-scroll turbochargers from 1.7 to 2.1 bar and making some model-specific tweaks to the engine management. The maximum torque is 650 Nm.
The optional lightweight M precision strut in silver-grey serves to stabilise the vehicle and impressively improve the driving dynamics.
Read more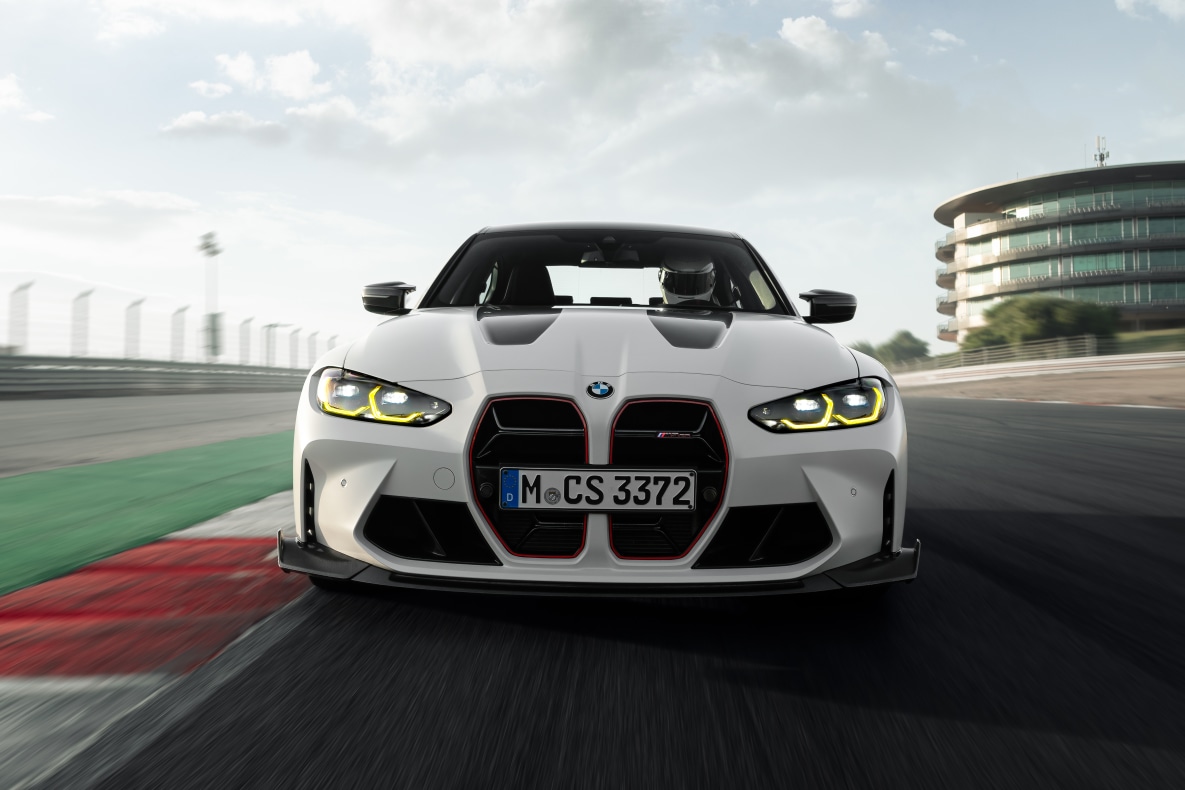 BUILT FOR DRIVING DYNAMICS.
Extensive, model-specific lightweight design measures play a major part in moulding the performance qualities and exclusive character of the BMW M3 CS. The use of components made from carbon fibre-reinforced plastic (CFRP) both inside and out is of key importance here. Besides its carbon fibre roof, the special-edition model also uses this lightweight, high-tech material for its bonnet, front splitter, front air intakes, exterior mirror caps, rear diffuser and rear spoiler. Under its carbon shell, moreover, the BMW M3 CS features optimised components for even better driving performance: The individually tuned axle kinematics and bespoke wheel camber settings, dampers, auxiliary springs and anti-roll bars serve to optimise steering precision, transmission of lateral control forces when cornering, spring and damping response and wheel location.
Read more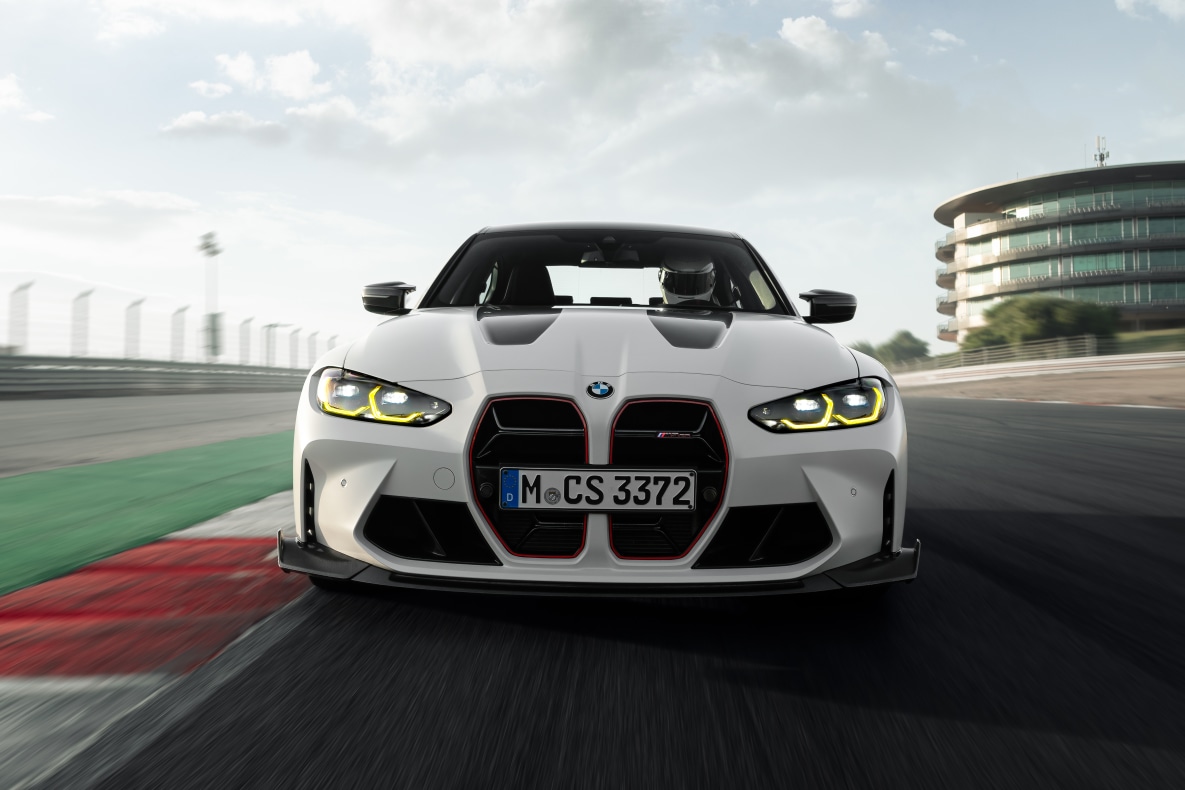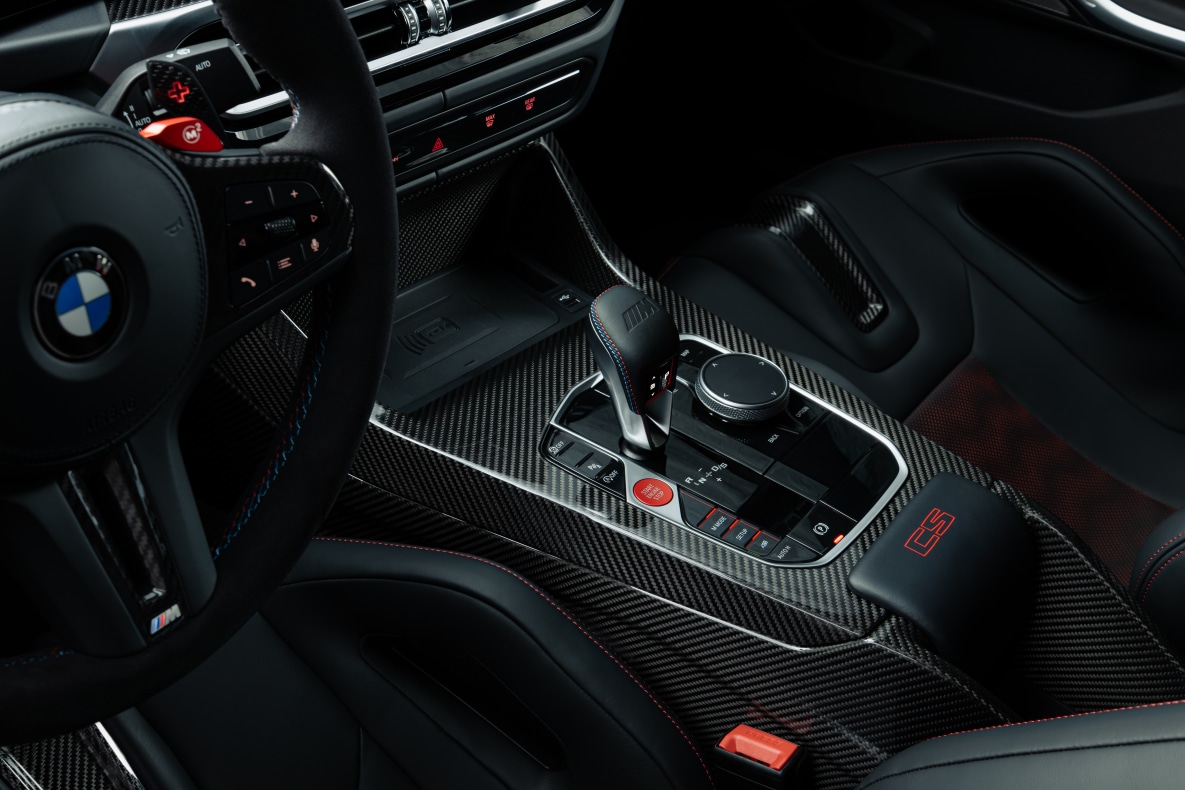 EXCLUSIVE LIGHTWEIGHT INTERIOR.
A sports car cockpit designed with concentrated driving pleasure and maximum performance in mind: The driver and front passenger are welcomed as standard by lightweight M Carbon bucket seats in a model-specific design. Their black and red bi-colour finish is repeated for the two rear seats of the sedan. Another highlight is the lightweight-design centre console with red "CS" lettering made of carbon fibre. The standard equipment roster for the BMW M3 CS also includes M seat belts with a woven stripe pattern in BMW M colours, door sill plates bearing the inscription "M3 CS", an Anthracite-coloured headliner, interior trim strips in carbon fibre finish and an M Alcantara steering wheel with CFRP shift paddles and a red centre marker.
Read more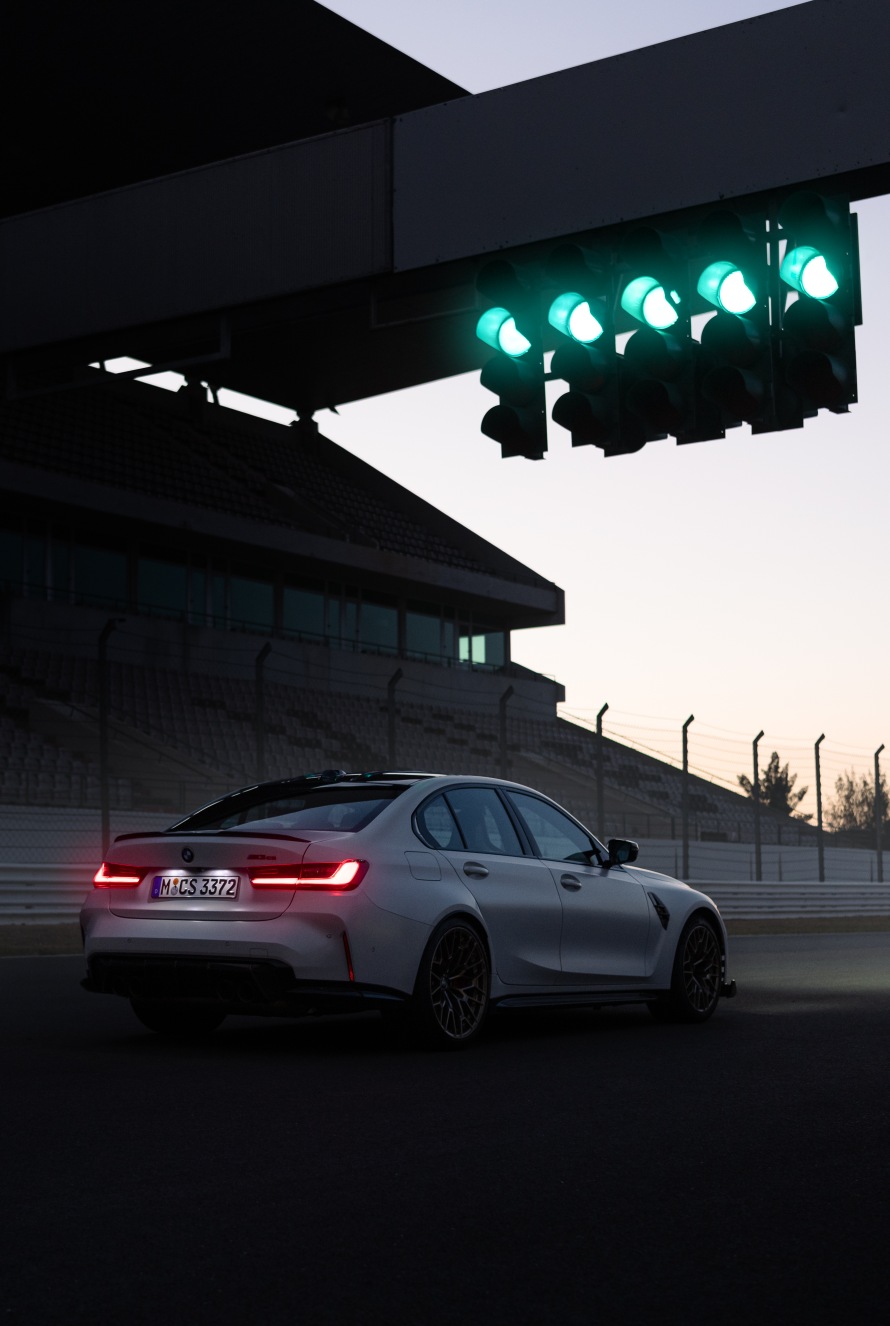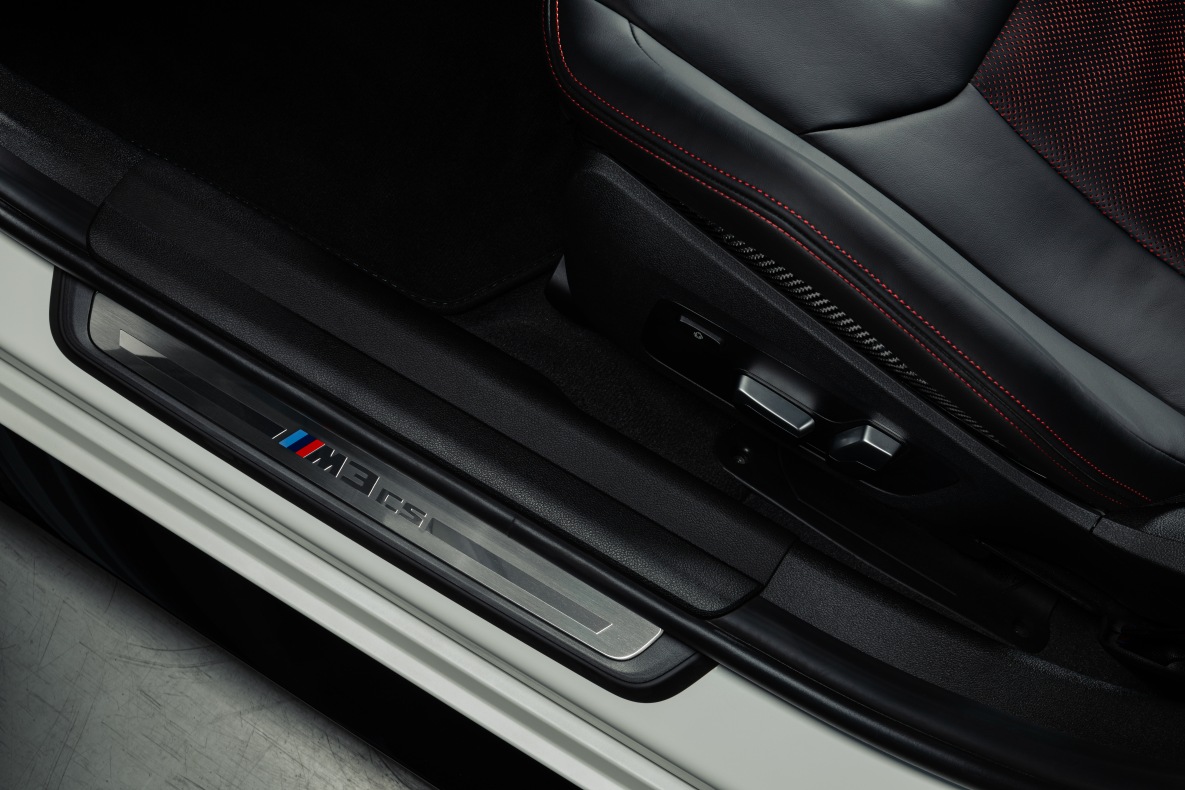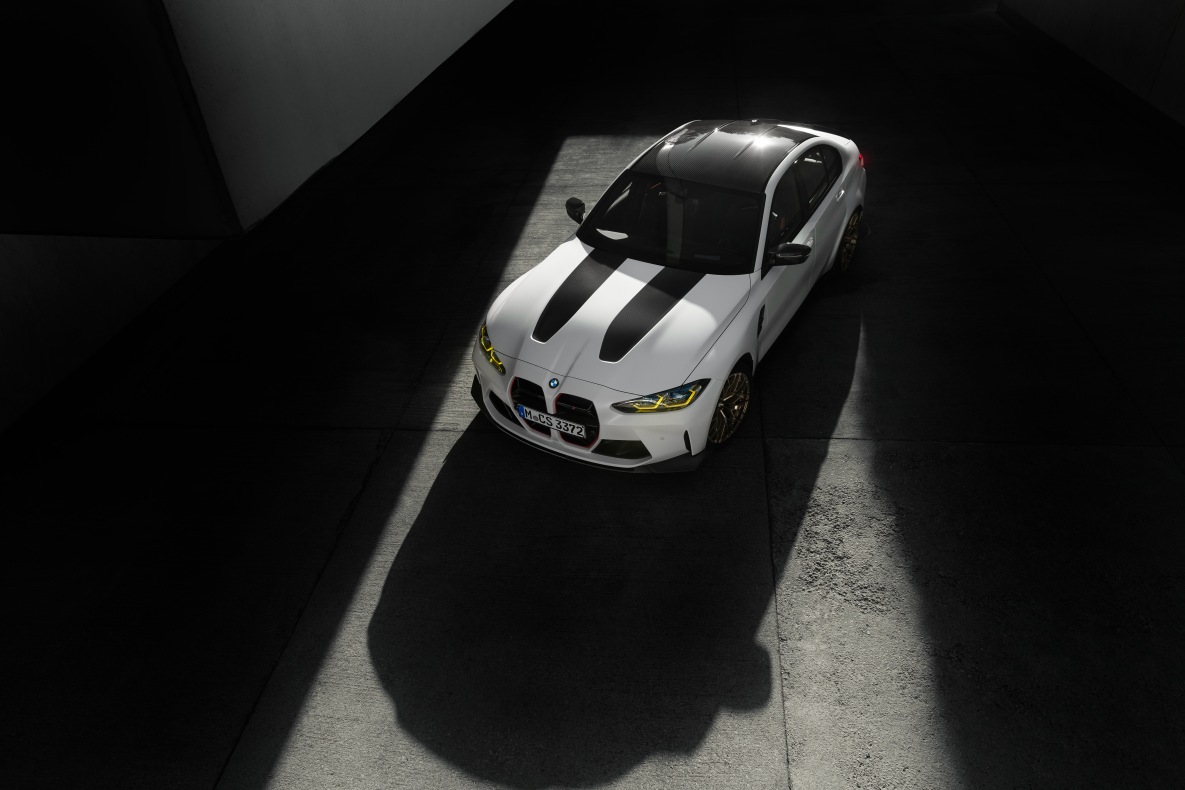 Adaptive M suspension.

M Carbon ceramic brake.

8-speed M Steptronic Sport transmission

M xDrive with Active M Differential.

M Drive Professional.

EXCLUSIVE COLOURS.
The BMW M3 CS is offered in four exclusive paint finishes: Frozen Solid White metallic, Signal Green, Brooklyn Grey metallic and Sapphire Black metallic.
Read more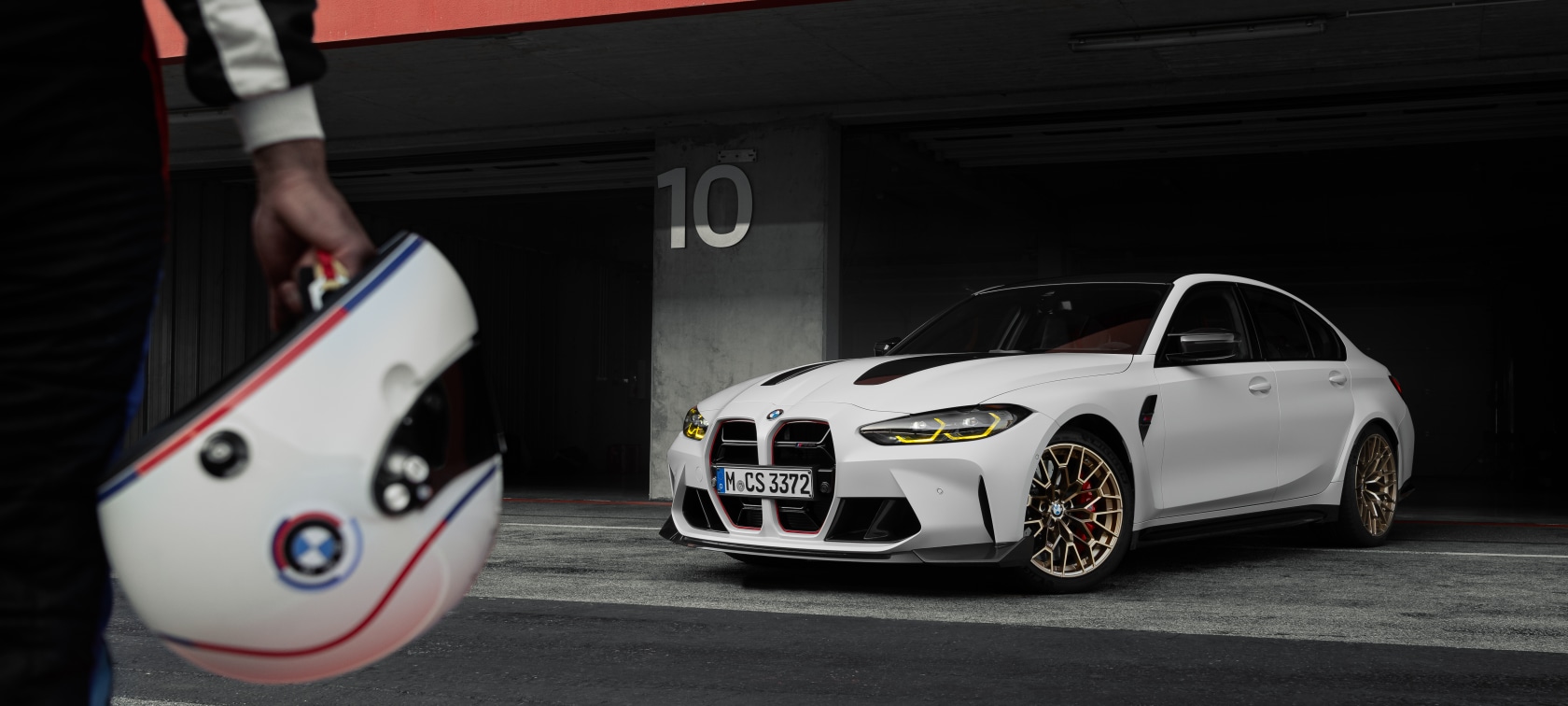 THE M3 CS
More information, technical data and prices
BMW M3 CS: Fuel consumption in l/100 km (combined): 10.4-10.1 (WLTP); CO2 emissions in g/km (combined): 234-229 (WLTP)
Read more
​
The models illustrated include optional equipment.


Due to regular software updates, screen designs in the communication may differ from the actual screen design in your car.

Official data on power consumption and electric range were determined in accordance with the mandatory measurement procedure and comply with Regulation (EU) 715/2007 valid at the time of type approval. In case of a range, figures in the NEDC take into account differences in the selected wheel and tire size; figures in the WLTP take into account any optional equipment. WLTP values are used for assessing taxes and other vehicle-related charges that are (also) based on CO2 emissions, as well as for the purposes of vehicle-specific subsidies, if applicable. Where applicable, the NEDC values listed were calculated based on the new WLTP measurement procedure and then converted back to the NEDC measurement procedure for comparability reasons. For newly type-tested vehicles since 01.01.2021, the official data no longer exist according to NEDC, but only according to WLTP. For more information on the WLTP and NEDC measurement procedures, see https://www.bmw.com/wltp.

For further information about the official fuel consumption and the specific CO2 emission of new passenger cars can be taken out of the "handbook of fuel consumption, the CO2 emission and power consumption of new passenger cars", which is available at all selling points and at https://www.dat.de/co2/.


All vehicles, equipment, combination possibilities and varieties shown here are examples and can differ in your country. In no way do they constitute a binding offer by the BMW M GmbH. Visit your local BMW website or see your authorised BMW M Retailer for accurate details on the offers in your country.