PIONEER OF A NEW STYLE OF FREEDOM.
THE BMW M850I XDRIVE CONVERTIBLE.
31. Jul 2019

The BMW M850i xDrive Convertible is a statement of luxurious sportiness. A characterful example of the BMW luxury class whose progressive formal idiom radiates maximum aesthetic appeal and confidence. In addition, this emotion-packed Convertible is a captivatingly high-performance sports car with cutting-edge technologies that lend it outstanding dynamics and handling characteristics. With 530 hp from the TwinPower Turbo 8-cylinder petrol engine it is made for for top ambitions and a new dimension of self-determining driving pleasure.






BMW M850i xDrive Convertible:
Fuel consumption in l/100 km (combined): 10.2 - 10.0
CO2 emissions in g/km (combined): 231 - 228
Read more
01

TwinPower Turbo 8-cylinder petrol engine

02

BMW xDrive all-wheel system with rear-wheel-oriented turning

03

M Sport Differential

04

Optional BMW Laserlight

05

Innovative soft top for maximum freedom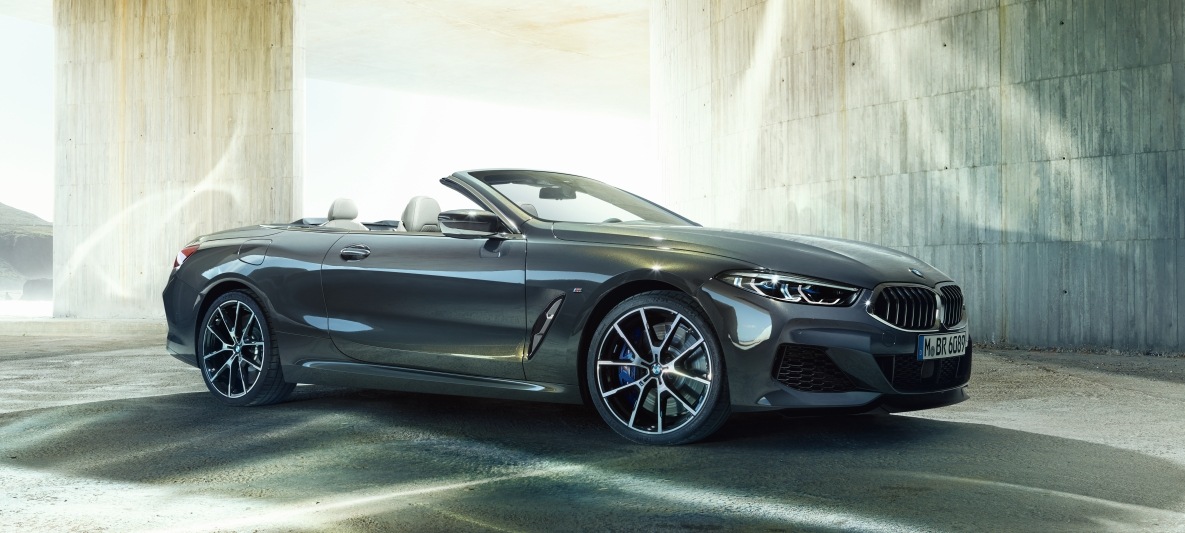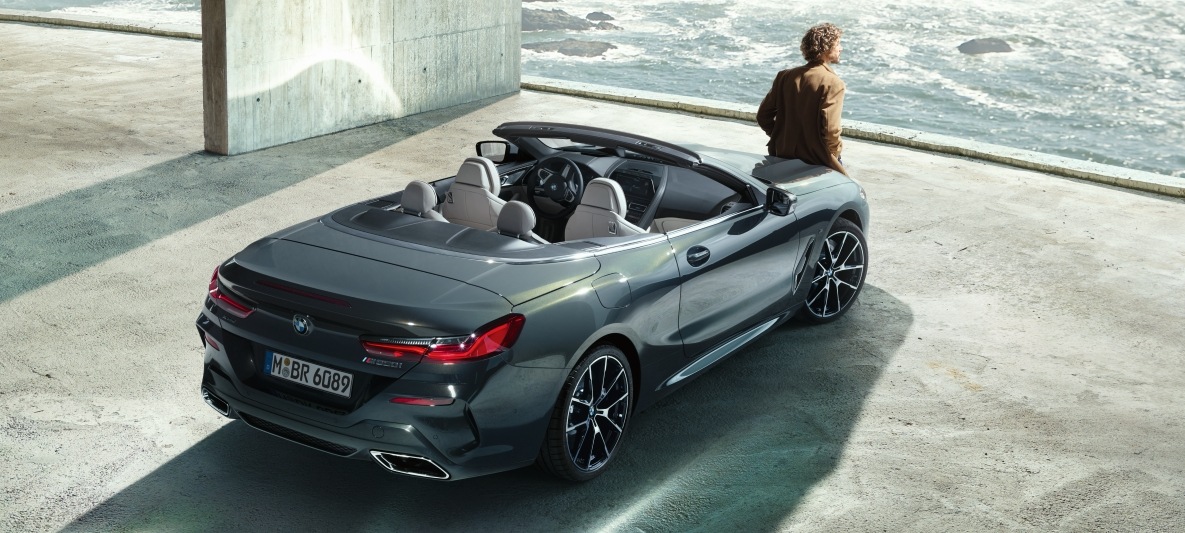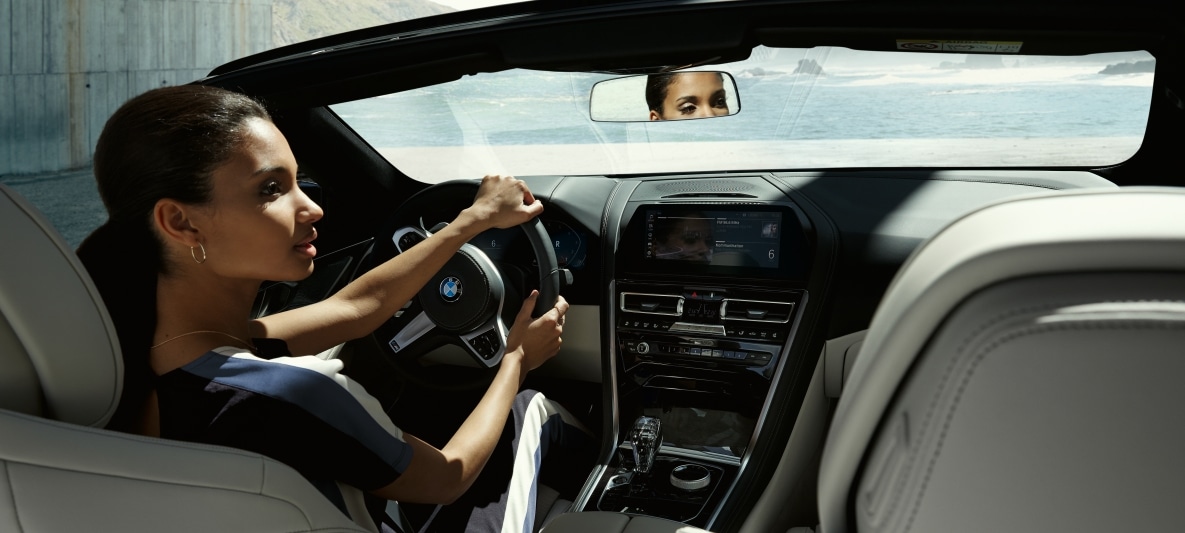 "Stylish, confident and with a powerful presence: the exterior of the BMW 8 Series Convertible enchants the onlooker at first sight."
THRILLING AESTHETICS.
From the stretched bonnet, across the flat soft top which dips coupé-style as it progresses back, to the strikingly designed rear end – this luxury convertible's silhouette is enveloped in an aura of self-determined sportiness. An impressive presence that is highlighted truly elegantly by the 20-inch light-alloy wheels 728 M and the M Aerodynamic Package. With hexagonal light tubes and blue design highlights, BMW laser light gives the front end of the BMW M850i xDrive Convertible an extremely distinctive and highly dynamic character. In the laser high-beam mode, BMW laser light reaches almost twice as far as conventional headlights – up to 600 metres – enhancing both looks and visibility.
Read more
LUXURY AND DYNAMICS.
THE BMW M850I XDRIVE CONVERTIBLE COMBINES SPORTINESS AND ELEGANCE IN AN IMPRESSIVE MANNER.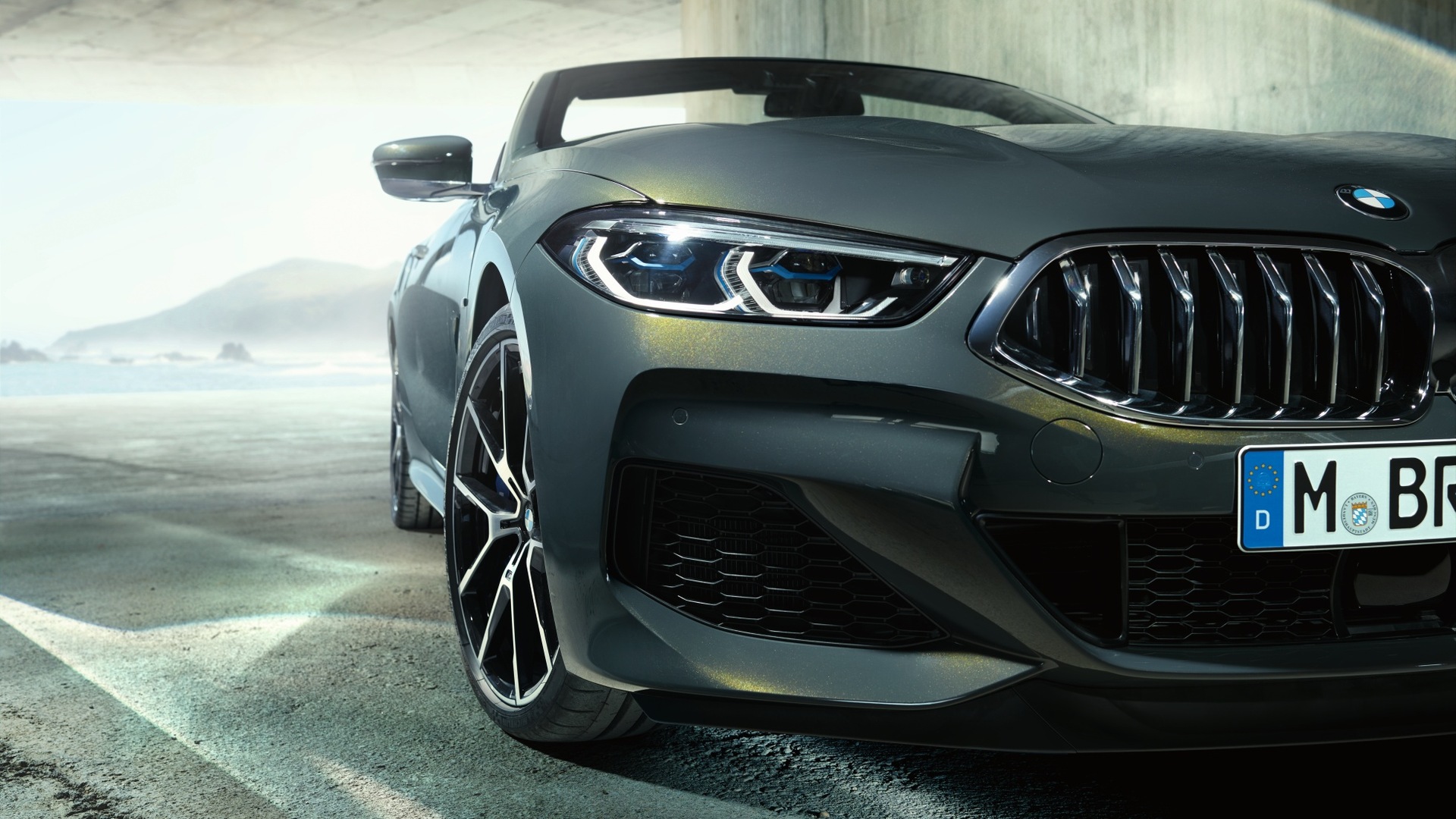 BMW LASER LIGHT.
REACHES ALMOST TWICE AS FAR AS CONVENTIONAL HEADLIGHTS.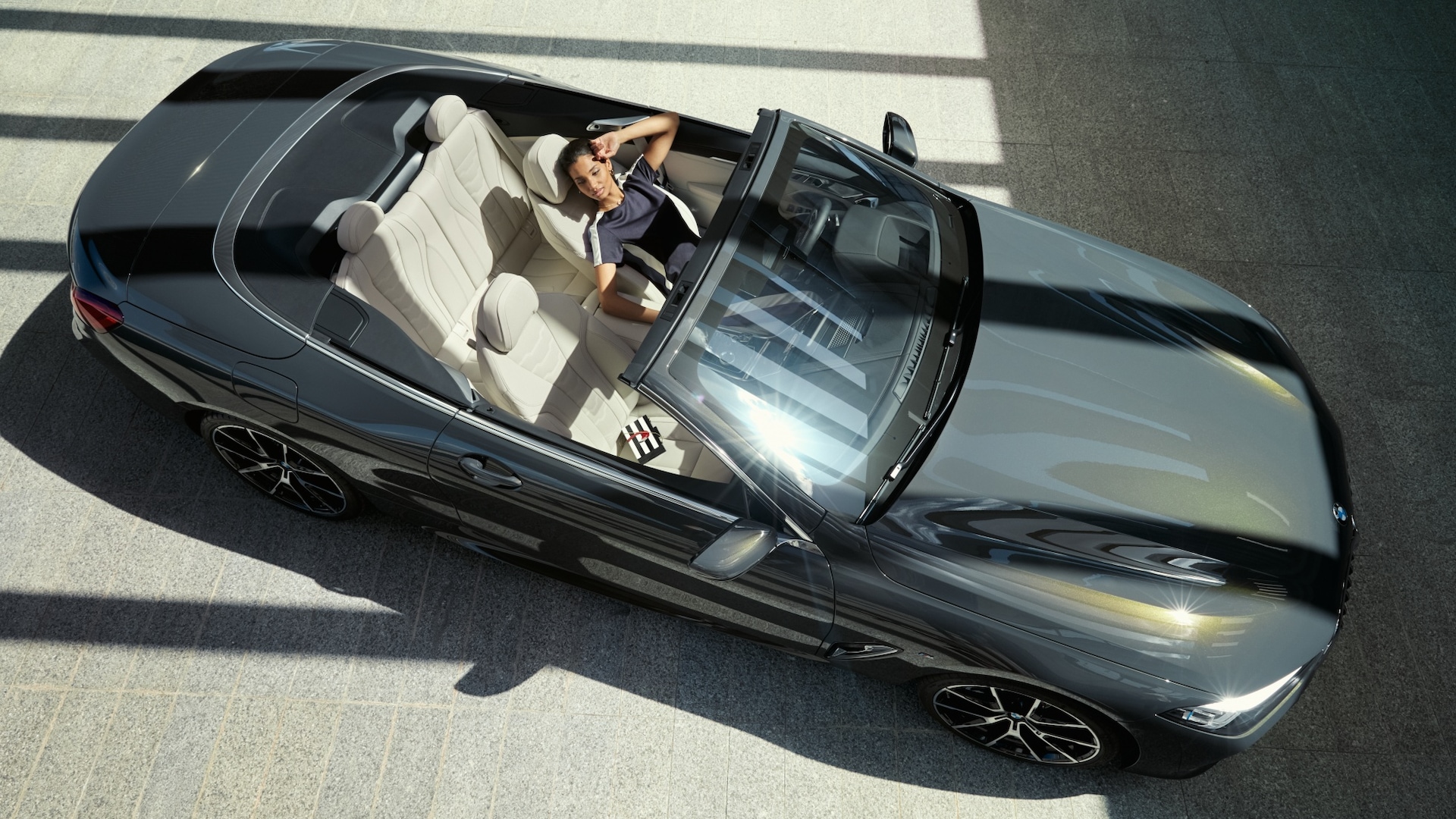 PERFECT ELEGANCE AND INDIVIDUAL LUXURY.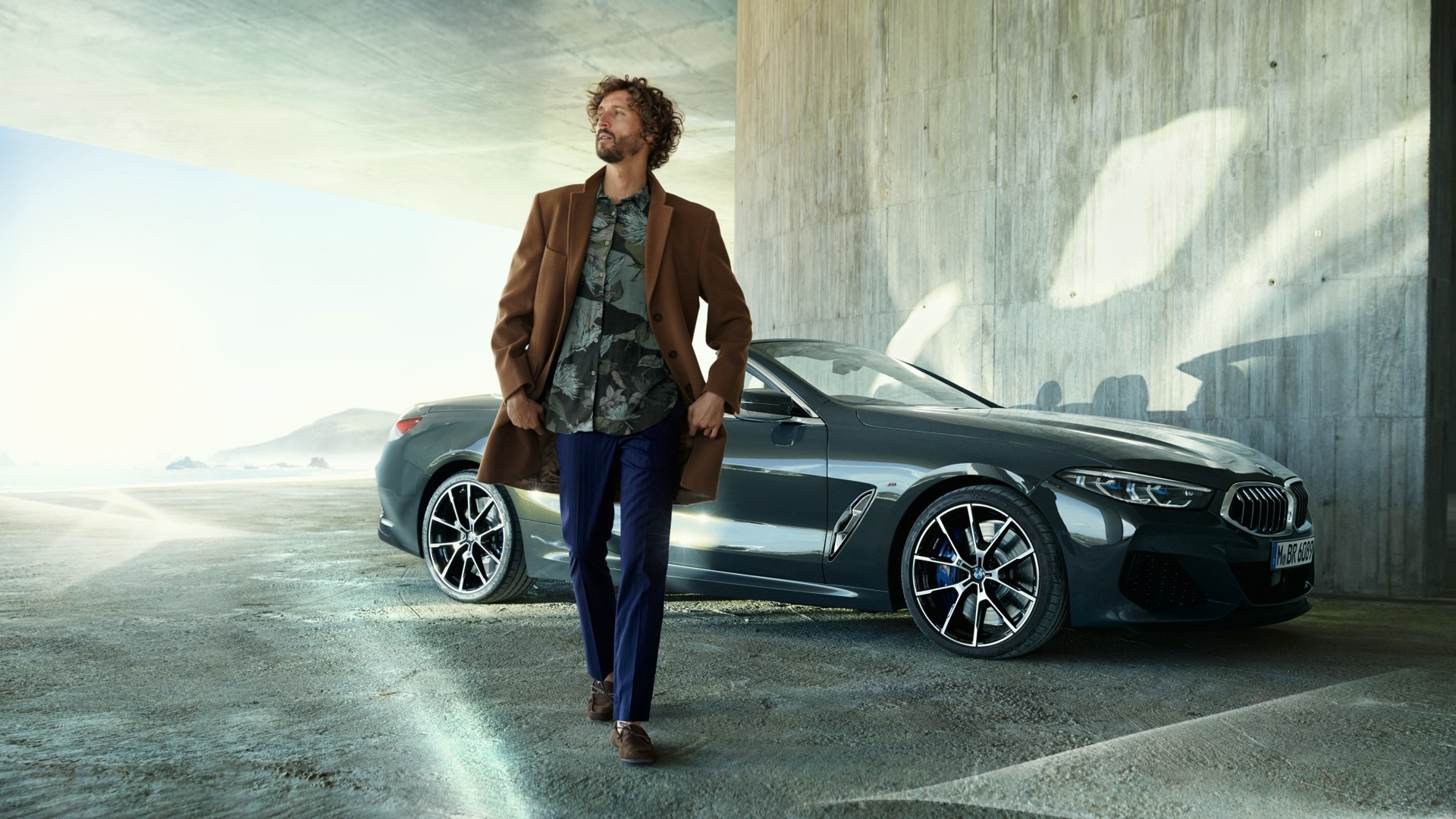 LEAVE AN IMPRESSION.
SOPHISTICATED ELEGANCE AND INDIVIDUAL LUXURY: THE POWERFULLY CURVED SURFACES EXPRESS THE ATHLETIC CHARACTER OF THE CONVERTIBLE.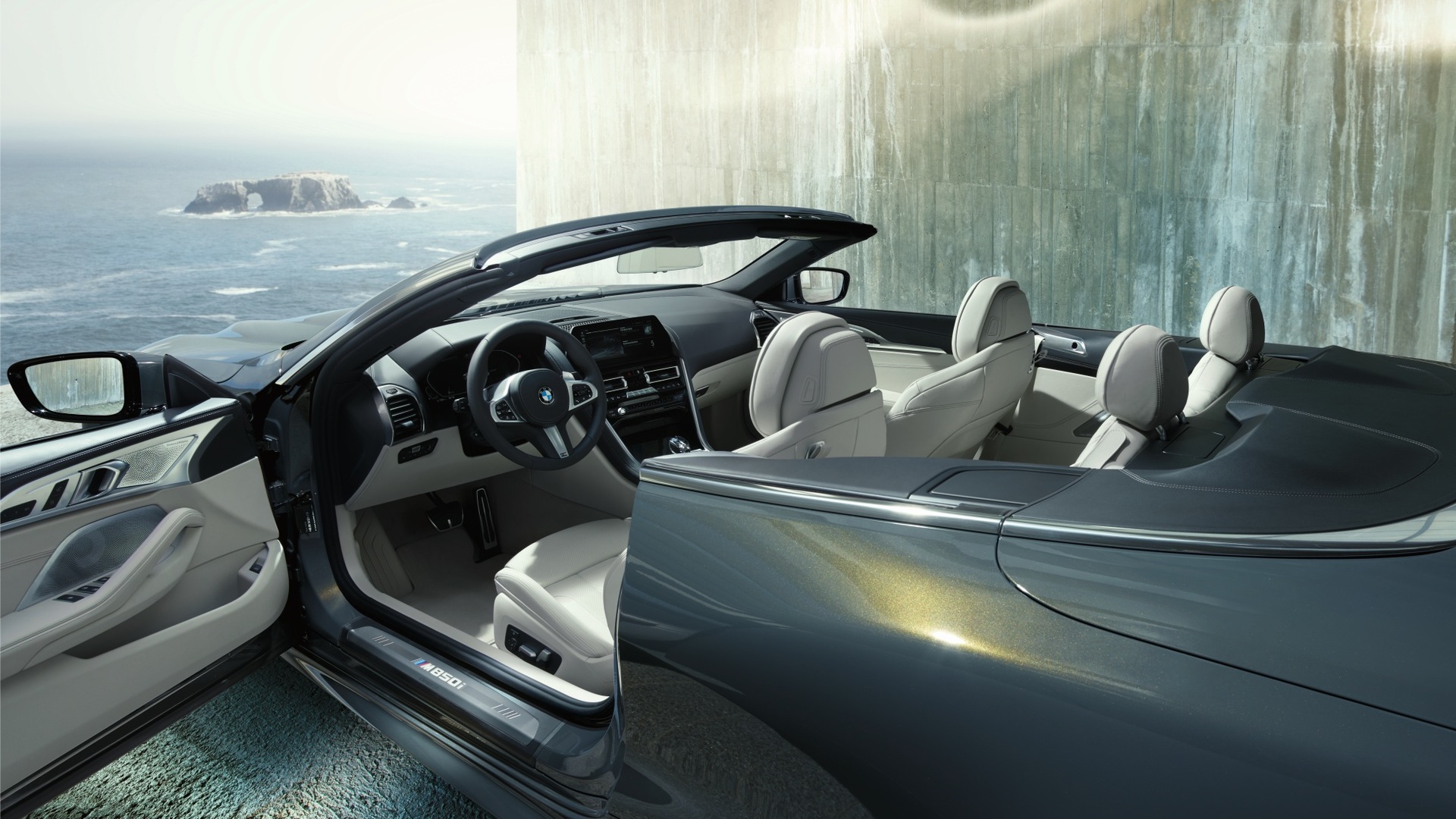 IMPRESSIVE HARMONY BETWEEN EXTERIOR AND INTERIOR.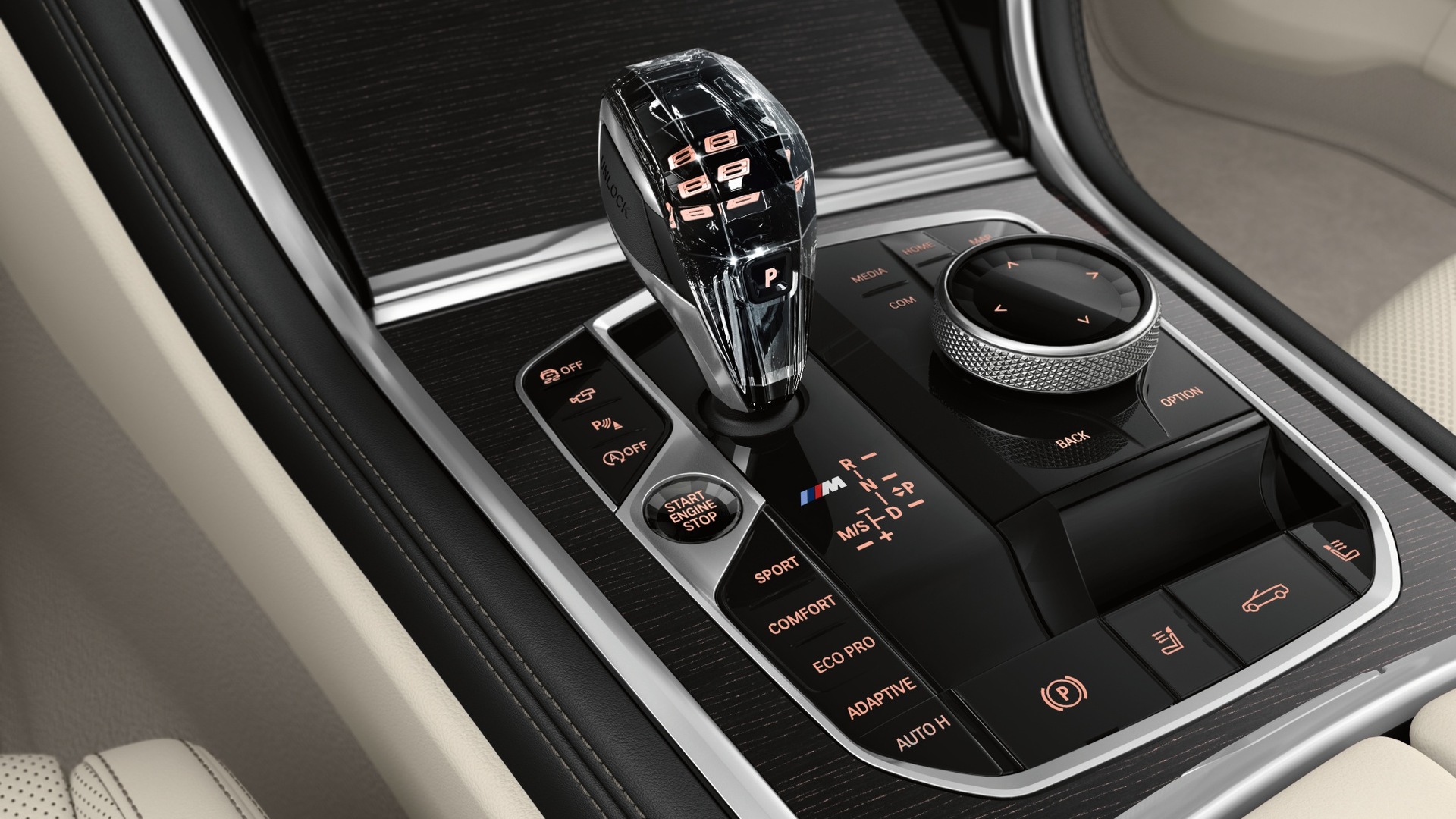 HAND-CRAFTED GLASS ELEMENTS.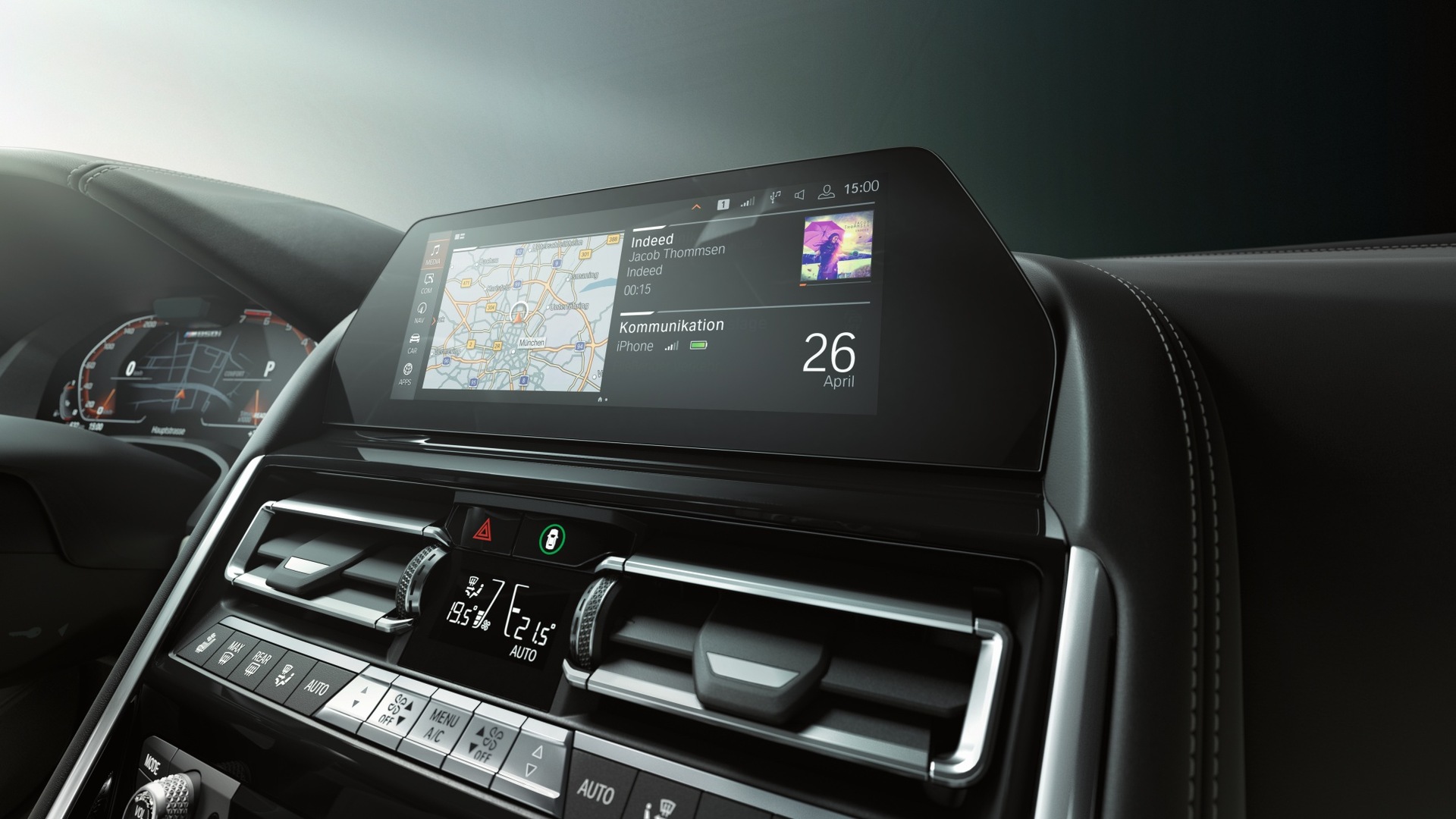 BMW LIVE COCKPIT PROFESSIONAL.
WITH A HIGH-RESOLUTION 10.25" CONTROL DISPLAY AND A FULLY DIGITAL 12.3" INSTRUMENT DISPLAY.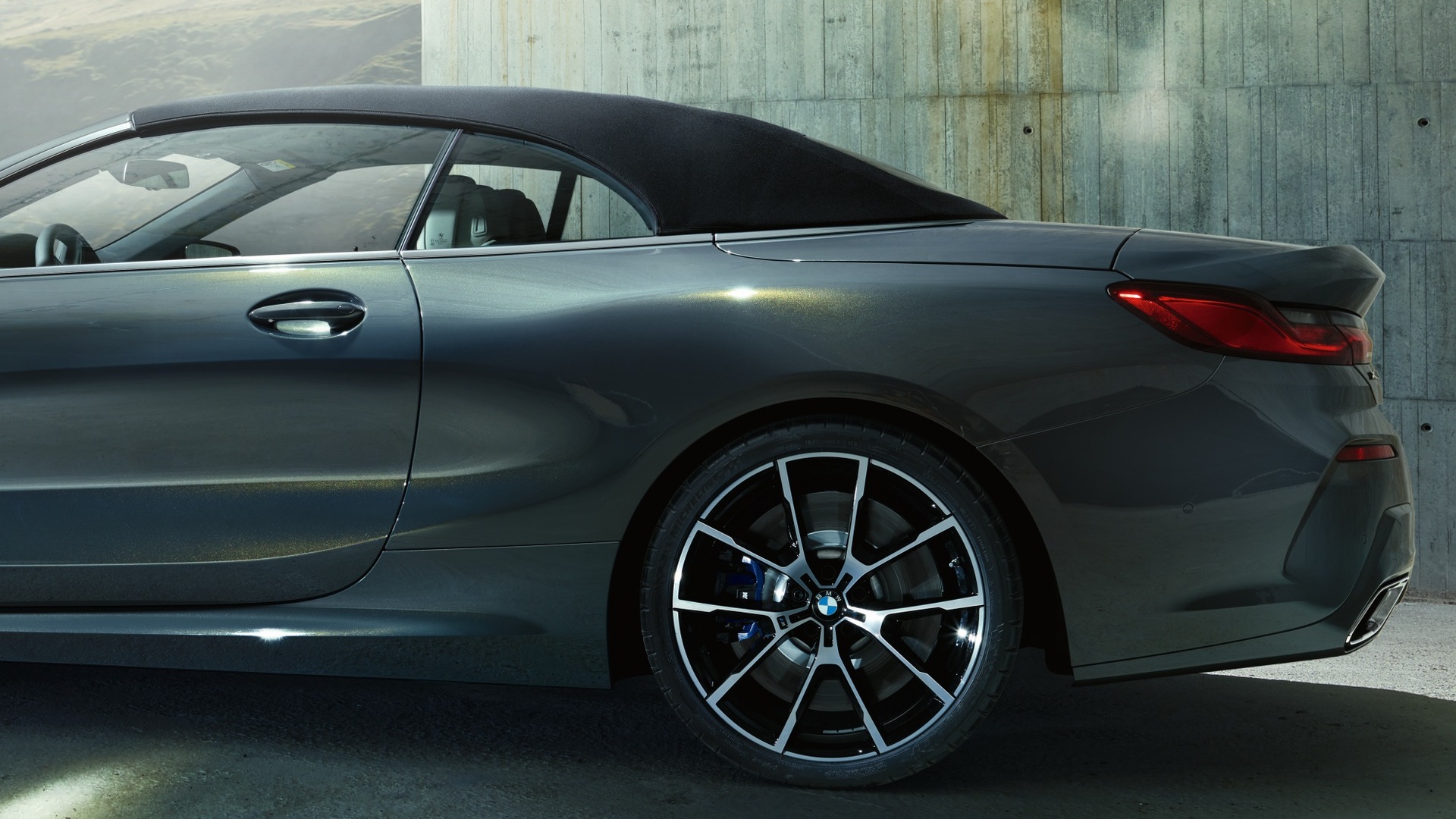 EXPRESSIVE EVEN WITH THE ROOF CLOSED.
EXPRESSIVE CHARACTERS.
Sportiness in its most progressive form: the BMW M850i xDrive is bursting with power and unbridled passion. With eye-catching equipment options such as the Dravit Grey metallic paint finish, the M Performance specific design highlights in Cerium Grey and the BMW Individual extended leather upholstery in choice Merino Ivory White, this athletic convertible displays its potential right from the first glance – and infuses every drive with a unique atmosphere of sporty independence.

Read more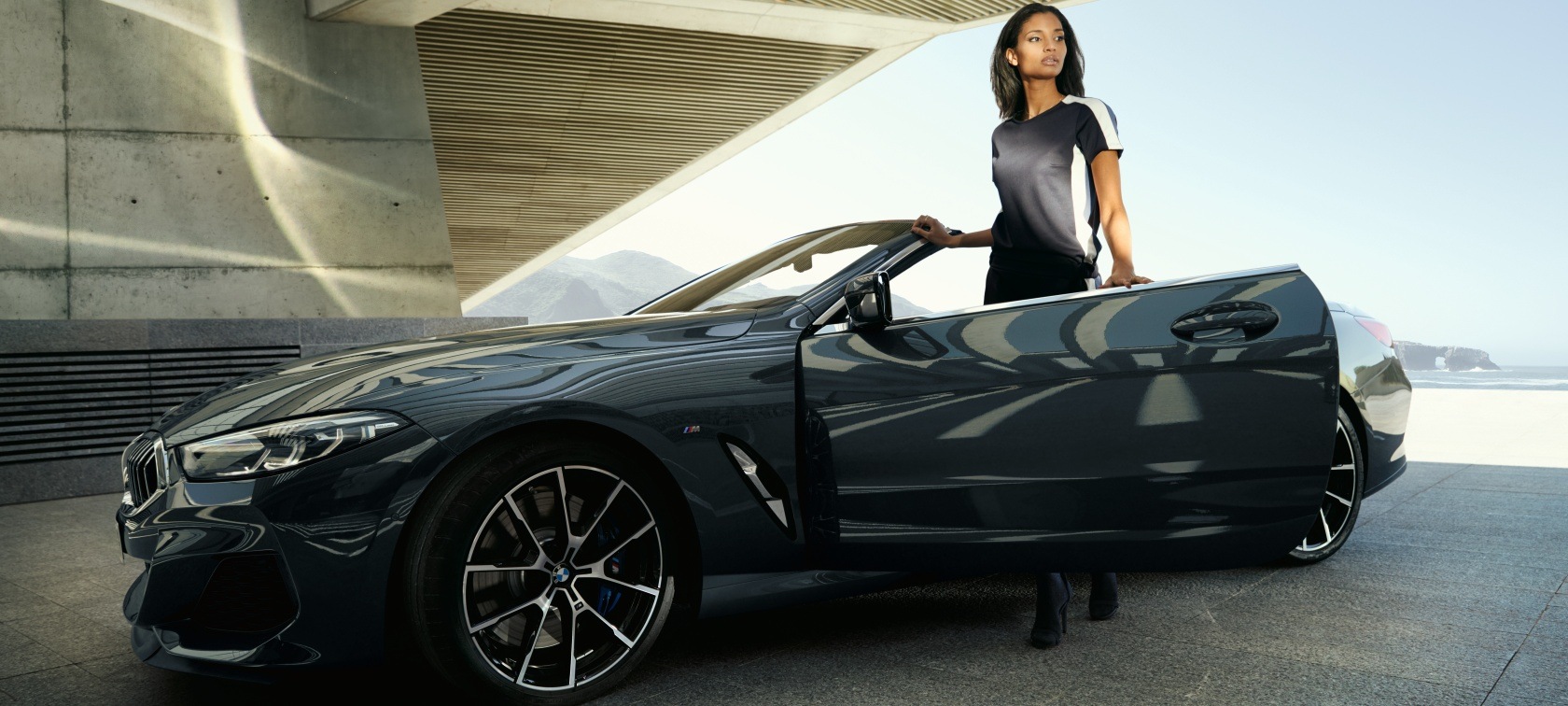 750 Nm
of torque in the BMW M850i xDrive Cabriolet ensures a level of sovereignty that is second to none in this vehicle class.

A VIRTUOSO TEMPERAMENT.
Trendsetting technology and exceptional performance: the BMW M850i xDrive Convertible pushes your pulse and your sense of freedom to the limits in record time. The BMW TwinPower Turbo 8-cylinder petrol engine with its displacement of 4.4 litres and a power output of 390 kW (530 hp), is a unique fusion of superb dynamics and efficiency. Two exhaust turbochargers combined with indirect intercooling and an injection pressure of up to 350 bar optimise the power output while also boosting efficiency – accompanied throughout by the full-throated sound of the V8 engine, which signals power on tap the moment the engine starts to turn.
Read more
BMW M850i xDrive Convertible:
Fuel consumption in l/100 km (combined): 10.2 - 10.0
CO2 emissions in g/km (combined): 231 - 228

The illustrations show optional equipment.
The values of fuel consumptions, CO2 emissions and energy consumptions shown were determined according to the European Regulation (EC) 715/2007 in the version applicable at the time of type approval. The figures refer to a vehicle with basic configuration in Germany and the range shown considers optional equipment and the different size of wheels and tires available on the selected model.
The values are already based on the new WLTP regulation and are translated back into NEDC-equivalent values in order to ensure the comparison between the vehicles. [With respect to these vehicles, for vehicle related taxes or other duties based (at least inter alia) on CO2-emissions the CO2 values may differ to the values stated here.]
The CO2 efficiency specifications are determined according to Directive 1999/94/EC and the European Regulation in its current version applicable. The values shown are based on the fuel consumption, CO2 values and energy consumptions according to the NEDC cycle for the classification.
For further information about the official fuel consumption and the specific CO2 emission of new passenger cars can be taken out of the "handbook of fuel consumption, the CO2 emission and power consumption of new passenger cars", which is available at all selling points and at https://www.dat.de/angebote/verlagsprodukte/leitfaden-kraftstoffverbrauch.html.
Read more
All vehicles, equipment, combination possibilities and varieties shown here are examples and can differ in your country. In no way do they constitute a binding offer by the BMW M GmbH. Visit your local BMW website or see your authorised BMW M Retailer for accurate details on the offers in your country.
Read more