PASSION LEAVES TRACES
The BMW M Driving Experience is part of BMW M GmbH. As one of the first providers of driver training courses, it has been thrilling its customers with driving experiences in BMW Group vehicles since 1977. The BMW M Driving Experience currently offers training courses in more than 30 countries, all led by professional instructors and featuring vehicles from BMW, MINI and BMW Motorrad.
Under the slogan "Passion leaves traces", the BMW M Driving Experience plays an important role in improving driving safety on public roads, while at the same time conveying the joy of driving for which BMW is renowned. The BMW M Driving Experience fulfils its social responsibility with its driver safety courses on asphalt and snow, which give the customers all the basics they need to drive safely and competently.
Beyond the regular training courses on offer, the BMW M Driving Experience also places great importance on meeting individual customer desires. A team specialising in corporate events and incentives works closely with the customer to put together packages tailored specifically to the customer's requirements.
Contact
We are always glad to help if you have any questions about our customised events. You can contact us Monday to Friday from 8 a.m. to 5 p.m. at the following telephone number or you can send us an email with your enquiry:
+49 (0)89 1250 16 444
FAQ
We have put together some of the most frequently asked questions and key points regarding the BMW M Driving Experience. Should your question not be included, please simply get in touch with us.
Read more
Age restrictions

Registration deadline

Getting there

Booking double rooms

Booking confirmation and full details of the training course

Coronavirus

Privacy/SSL encryption

17-year-old with driving license

Voucher

Instructor

Childcare

Physical handicaps

Non-BMW drivers

Rates and vehicles provided

Cancellations

Cancelling accommodation arrangements

Participation during pregnancy

Participation with private car

Theory

Training requirements

Catering

Insurance

Insurance bonus

Weather conditions

Additional overnight stays

Spectators and escorts
Info material
Would you like to sit down and check out what is available from the BMW M Driving Experience in your own good time? Then use our download service to call up our info material on your computer. You can also download the registration form on this page. Have you already chosen a training course? Then all you need now is the registration form for the BMW M Driving Experience. Do you need more information before making your decision? Then we would recommend the BMW M Driving Experience brochures and price lists.
Sommer programme 2022
Browse online now – Discover the Summer Programme of the BMW M Driving Experience.

Read more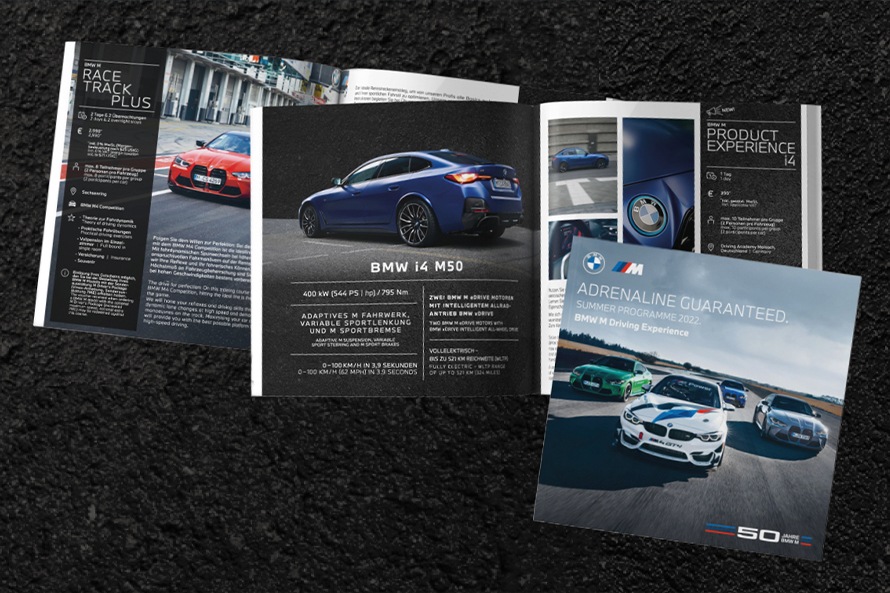 TERMS AND CONDITIONS
The following conditions apply to the participation in the BMW M Driving Experience provided by BMW M GmbH Gesellschaft für individuelle Automobile (hereinafter referred to as "BMW M").
DAT NOTE
BMW M3 Competition Sedan: Fuel consumption in l/100 km (combined): --- (NEDC) / 9.8 (WLTP); CO2 emissions in g/km (combined): --- (NEDC) / 224 – 223 (WLTP)
BMW 230i: Fuel consumption in l/100 km (combined): 6.5 (NEDC) / 8.0 – 7.7 (WLTP); CO2 emissions in g/km (combined): 148 (NEDC) / 183 – 177 (WLTP)
MINI John Cooper Works: Fuel consumption in l/100 km (combined): 7.1 – 6.9 [6.2 – 6.0] (NEDC) / 7.1 – 6.8 [6.9 – 6.6] (WLTP); CO2 emissions in g/km (combined): 163 – 158 [142 – 137] (NEDC) / 161 – 155 [157 – 150] (WLTP).
All figures are for cars with the standard six-speed manual gearbox.
Figures in [] are for cars with eight-speed sport automatic transmission.
Official data on fuel consumption, CO2 emissions, power consumption and electric range figures were determined in accordance with the mandatory measurement procedure and comply with Regulation (EU) 715/2007 valid at the time of type approval. In case of a range, figures in the NEDC take into account differences in the selected wheel and tire size; figures in the WLTP take into account any optional equipment. WLTP values are used for assessing taxes and other vehicle-related charges that are (also) based on CO2 emissions, as well as for the purposes of vehicle-specific subsidies, if applicable. Where applicable, the NEDC values listed were calculated based on the new WLTP measurement procedure and then converted back to the NEDC measurement procedure for comparability reasons. For more information on the WLTP and NEDC measurement procedures, see www.bmw.de/wltp.
For further information about the official fuel consumption and the specific CO2 emission of new passenger cars can be taken out of the "handbook of fuel consumption, the CO2 emission and power consumption of new passenger cars", which is available at all selling points and at https://www.dat.de/angebote/verlagsprodukte/leitfaden-kraftstoffverbrauch.html.