HOW TO USE LAUNCH CONTROL.
How to use Launch Control, featuring a BMW M4 Coupé.
#1: Warm-up:
Warm up the engine. Using the button, deactivate the dynamic stability control (DSC) to achieve maximum acceleration from a standstill.
#2 Choose your gear:
Switch the automatic into the sequential mode (M/S) with drive programme 3 and shift into first gear.
#3 Kickdown:
Press down on the brakes and at the same time the accelerator until kickdown. On the instrument combination panel, a start flag symbol appears.
#4 Regulate rpm:
You can regulate the starting speed using cruise control to 3,000 to 3,500 rotations per minute.
#5 Action:
Release the brakes while maintaining kickdown. The car accelerates with optimal traction. Shifting up occurs automatically as long as the gas pedal is held completely down. And bye-bye!
Read more
Who is who.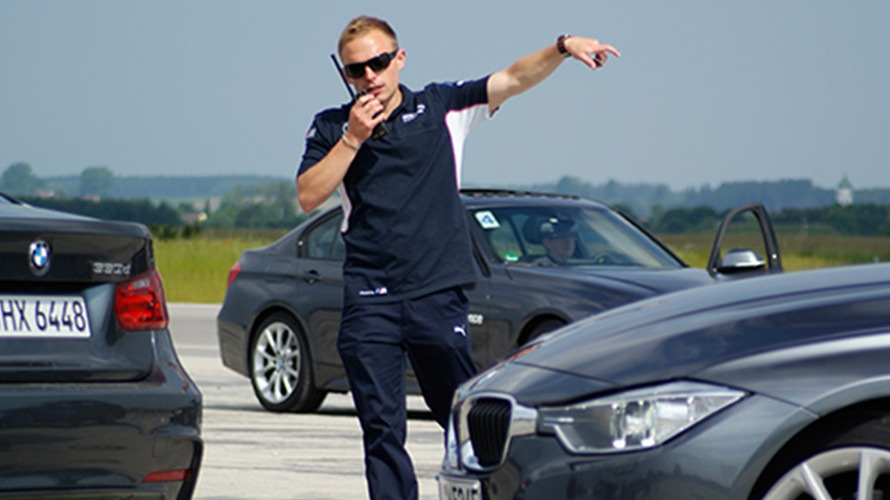 Who is who.
Race car driver, winner of the 24-hour Nürburgring, BMW instructor: Stefan Landmann stays on the ideal line. As a class winner in 2011 at the 24-hour Nürburgring on the notorious Nordschleife, the hot-blooded race car driver conquered one of the most demanding racetracks in the world in a BMW M3 GT4. As a certified BMW instructor, the 30-year-old Austrian is the right man in the right place when it comes to transferring the fascination of racing to the road. "It is a great pleasure for me to work with people who are as enthusiastic as I am," says Landmann. "I like to pass on my motorsport experience."

BMW M4 Coupé:
Fuel consumption in l/100 km (combined): 9.1 (8.3)
CO2 emissions in g/km (combined): 209 (194)
The figures in brackets refer to the vehicle with seven-speed M double-clutch transmission with Drivelogic.
Read more
Further information about the official fuel consumption and the official specific CO2 emissions for new passenger automobiles can be found in the 'New Passenger Vehicle Fuel Consumption and CO2 Emission Guidelines', which are available free of charge at all sales outlets, from Deutsche Automobil Treuhand GmbH (DAT), Hellmuth-Hirth-Str. 1, 73760 Ostfildern, Germany, or under http://www.dat.de/en/offers/publications/guideline-for-fuel-consumption.html. The figures are not based on an individual vehicle and do not constitute part of the product offer; they are provided solely for the purposes of comparison between different vehicle types. CO2 emissions caused by the production and provision of fuel or other energy sources are not taken into account in the determination of CO2 emissions pursuant to Directive 1999/94/EC.

Read more
All vehicles, equipment, combination possibilities and varieties shown here are examples and can differ in your country. In no way do they constitute a binding offer by the BMW M GmbH. Visit your local BMW website or see your authorised BMW M Retailer for accurate details on the offers in your country.

Read more